My Blog
Posts for: June, 2013
By JW Haltom DDS, Inc. Family Dentistry
June 26, 2013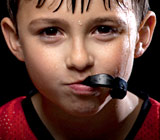 There's nothing quite like watching your son or daughter compete on the athletic field. It's a mixture of anticipation, pride — and occasionally, anxiety. Despite all the protective gear and training, kids are sometimes injured playing the sports they love. In fact, when it comes to dental injuries, teens are the most susceptible of any age group. Here's what you should know about preventing sports-related dental injuries in kids.
Of course you know that football and hockey players should always wear mouthguards, both at games and during practice. But don't forget about kids who play soccer, do gymnastics, wrestle or play basketball. According to the American Dental Association (ADA) these athletes — along with participants in about 20 other sports — also need to wear this important piece of protective gear. In fact, the ADA states that not wearing a mouthguard makes an athlete 60 times more likely to sustain dental injury!
In selecting a mouthguard, there are three basic options to choose from: the "off-the-shelf" type, the so-called "boil and bite" protector, and the custom-fitted mouthguard that we can fabricate. Let's look briefly at all three.
The first type, available at many sporting goods stores, comes in a limited range of sizes, and an unknown range of quality. It's the least expensive option, offering a minimal level of protection that's probably better than nothing.
The second type, although popular, is also limited in its protection. This one is designed to be immersed in hot water, and then formed in the mouth using finger, tongue and bite pressure. If it can be made to fit adequately, it's probably better than the first type — though it often lacks proper extensions, and fails to cover the back teeth. Also, upon impact, the rubber-like material will distort and not offer as much protection as you would like to have.
The third is a piece of quality sports equipment that's custom-made for your child's mouth (or your own). To fabricate this mouthguard, we first make a model of the individual's teeth, and then mold the protector to fit just right. Made from tough, high-quality material, it's designed to cover all teeth, back and front, without being excessively bulky. It can even be made to accommodate growing teeth and jaws. And, it's reasonable in cost.
To paraphrase the ADA's recommendation, the best mouthguard is the one you wear. A comfortable, correctly-fitted mouthguard is easy to wear — and it can help prevent dental injury, giving you one less thing to worry about. Now, if you could just get you child to keep her eye on the ball.
If you have questions about mouthguards or sports-related dental injuries, please contact us or schedule an appointment for a consultation. You can learn more in the Dear Doctor magazine articles "Athletic Mouthguards" and "An Introduction to Sports Injuries & Dentistry."
By JW Haltom DDS, Inc. Family Dentistry
June 13, 2013
Have you ever wondered why your smile is not as white as it used to be? Well, there may be a few different reasons that your teeth have become discolored over the years. The change in color may simply be due to wear and tear from aging. It may also be a result of dietary factors, because foods containing tannins, such as red wine, coffee and tea are known to discolor teeth. Tobacco use, whether smoking or chewing, is another common cause of stains on your teeth.
So, what should you do if you decide you would like a whiter smile? You should first make an appointment with our office, so that we can assess the root cause of the discoloration. We may recommend a quick and easy solution with in-office whitening, sometimes known as power bleaching.
An in-office whitening treatment can lighten your teeth three to eight shades in just one office visit! During your whitening treatment, we will first protect your lips, gums and cheeks, leaving only your teeth exposed. Then, we will apply a professional strength bleaching gel to your teeth. We may use a special light to make the bleach work faster. The great advantage of this treatment is that your smile will become noticeably whiter in just an hour!
If you would prefer to whiten in the comfort of your home, we can give you a take-home whitening kit. First, we will make molds of your mouth, from which we will create thin plastic mouth trays that fit your teeth exactly. You'll apply the whitening gel to the trays and wear them on your teeth 30 minutes a day, twice a week, for about six weeks. While your teeth may not whiten as fast as in our office, if you wear them as directed, you'll still see great results.
Though you may always be able to find a whitening solution in the aisle of your grocery store, remember that the best way to ensure the results you want is to get a professional treatment.
If you would like more information about teeth whitening, please contact us or schedule an appointment for a consultation. You can also learn more by reading the Dear Doctor magazine article "Teeth Whitening."