My Blog
Posts for: February, 2012
By JW Haltom DDS, Inc. Family Dentistry
February 16, 2012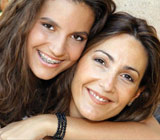 If you are planning orthodontic treatment for yourself or your child, you may have heard about different types of orthodontic appliances (braces) and you may be wondering which type is best for you.
Orthodontic treatment is the process used to improve the positioning of your teeth and bite so that you look better and your teeth function properly. Movement of the teeth is accomplished by harnessing the natural regenerative powers of the body to remodel living tissue, in this case, the bone, which adapts to the new position into which the teeth are moved. Orthodontic appliances accomplish the movement by placing small light and constant forces on the teeth to move them into new and better positions.
There are currently three main types of orthodontic appliances to move your teeth. After careful analysis of your bite and needs, we can help you select the best option for your particular situation.
Fixed appliances, commonly known as braces, so-called because they are fixed to the teeth thereby bracing them together, small brackets are bonded to the teeth and light flexible wires are threaded through them. Controlled tension on these wires pulls or pushes the teeth into position.
Clear brackets are a second, more aesthetic type of fixed appliance. While they are less visible, they tend to be more fragile.
Use of fixed appliances, whether brackets are metal or clear, is usually recommended in more complex cases because they enable the orthodontist to accomplish more complex three-dimensional tooth movements in the most efficient and predictable manner. Please note that, during treatment, you should avoid eating hard foods or participating in extreme contact sports so you will not damage your teeth or the appliances.
Clear aligners are a third, more recent option for repositioning teeth. They are removable appliances, generally used in situations that are milder in nature and easier to correct. After careful assessment, a series of computer-generated, custom made clear plastic trays are made to move the mal-aligned teeth. Tooth movement is progressive with each successive aligner or tray, moving the teeth minutely, until the new desired position(s) is achieved. Clear aligners are usually used for simpler or tipping movements of teeth.
With any of these options, simple movements of teeth may take a few months, and more complex movements take up to two or three years.
Orthodontic treatment is an ingenious scientific discovery that has allowed the dental profession to accurately and precisely move teeth for improved aesthetic appearance and functional position. Contact us today to schedule an appointment or to discuss your questions about orthodontics. You can also learn more by reading the Dear Doctor magazine article "The Magic of Orthodontics."
By JW Haltom DDS, Inc. Family Dentistry
February 08, 2012
Snoring and other sleeping disorders impact between 50 and 70 million Americans each year. However, did you know that our office can help when it comes to diagnosing and treating sleeping disorders? For this reason, we have put together this list to highlight how we can have a positive impact on your snoring.
Many people are surprised to learn that physician training is lacking and very slowly evolving in the area of sleep related breathing disorders. Therefore, there is limited public and medical awareness. The American Academy of Sleep Medicine (AASM) has acknowledged that properly trained dentists are the first line of therapy for treating mild to moderate sleep apnea effectively.
Because we see our patients on a more regular basis than many primary-care physicians, we dentists are in a unique position to identify and/or detect a SRBD. However, for us to accomplish this, you must share the facts about your sleeping habits and issues related to breathing. In other words, do not be embarrassed to let us know that your spouse, sleeping partner or family complain to you about your snoring!
When it comes to treating complications associated with Oral Appliance Therapy (OAT) used in managing Sleep Related Breathing Disorders (SRBD), dentists are the primary professionals who are specifically trained to create, fit, adjust, monitor and treat any complications associated with a mouthpiece (oral appliance).
Did you know that dentists help identify the approximately 90% of misdiagnosed cases of patients suffering from a SRBD? Well, it is true. We play a critical role in diagnosing and treating these patients.
Another reason why it is much easier for us to diagnose and treat these problems is because the core of our training is centered upon the oral cavity, mouth and parts of the upper airway — the very areas where your snoring and SRBDs occur.
If you suffer from snoring or any other Sleep Related Breathing Disorder, it is imperative that you seek and obtain treatment. Ignoring these problems can lead to issues such as: an irregular heartbeat, heart attacks, high blood pressure, and other forms of heart disease as well as strokes and impotence. Contact us today to discuss your questions about snoring or to schedule an appointment. You can also learn more about snoring and sleep disorders when you continue reading the Dear Doctor magazine article "Sleep Disorders & Dentistry."