My Blog
Posts for tag: periodontal (gum) disease
By JW Haltom DDS, Inc. Family Dentistry
July 09, 2012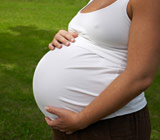 The beloved title of "mother" unfortunately does not come with a manual. If it did, it would certainly contain a section in which mothers-to-be could learn about the impact that pregnancy has on both their general and oral health. For example, did you know that during pregnancy the normally elevated levels of female hormone progesterone can cause inflammation in blood vessels within the gum tissues making the gums bleed? It typically occurs in response to less than adequate daily oral hygiene; however, it is just one important fact that all pregnant women should know.
There are numerous studies that have revealed that oral health during pregnancy can have a significant impact on the child growing inside you, and in particular, it has a direct relationship on your baby's developing and future oral health.
Periodontal (gum) disease can also be a factor in your baby's birth weight. In fact, there are a variety of studies supporting a positive link between pre-term delivery and low birth weight babies in the presence of severe periodontal disease in pregnant women. And there is also a correlation between the severity of periodontal disease and the possibility of an increased rate of pre-eclampsia or high blood pressure during pregnancy. This is another reason why it is important to see a dentist for an evaluation of your oral and dental health as soon as you know you are pregnant.
Please note that the goal of sharing these facts is not to scare you, but rather inform you so that you can be an educated mother-to-be. After all, you should be as healthy as possible for the most important job in the world and this includes both your oral and general health. Learn more about your body and discover the many relationships between mother and child as you read the Dear Doctor article, "Pregnancy And Oral Health." Or if you want to schedule an appointment to discuss your questions, contact us today.
By JW Haltom DDS, Inc. Family Dentistry
April 12, 2012
Did you know that recent research has shown diabetes is a risk factor for increased severity of periodontal (gum) disease and that periodontitis is a risk factor for worsening blood glucose (sugar) control in people with diabetes? Periodontitis can even increase the risk of diabetic complications for people diagnosed with diabetes. When you combine these facts with the following, you will clearly see how important it is to understand and manage these two diseases.
Over 23 million people in the United States currently have diabetes and over 170 million worldwide.
14+ million Americans have a condition called pre-diabetes.
Another estimated 6 million people in the US have diabetes but are unaware and thus not diagnosed.
Periodontal disease is the second most common disease known to man, only surpassed by tooth decay.
Diabetic individuals with periodontal disease have a greater risk for cardiovascular and kidney complications than those diabetics not having periodontal disease.
What You Can Do
One of the most important steps you can take if you have either of these conditions or suspect that you might have one or both is to make an appointment with your physician or with our office for a thorough examination. You should schedule an appointment with your physician for an exam and blood work so that your general health and well-being are monitored. Be certain to share your medical information and any family history of diabetes with our office, as it tends to occur in families.
Learn More
Learn the risks and how to take care of types 1 and 2 diabetes, as well as the stages of periodontal disease (with detailed full-color illustrations) when you read the Dear Doctor article, "Diabetes & Periodontal Disease." Or if you want to schedule an appointment to discuss your questions, contact us today.
By JW Haltom DDS, Inc. Family Dentistry
January 31, 2012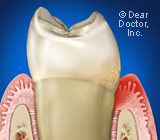 Periodontal or gum disease is an often silent disease that can cause significant damage to the health of your teeth and body. The reason it is so often classified as a silent disease is because it is chronic or longstanding and often without any symptoms or pain that most people associate with a disease until it may be too late.
If you think you may have gum disease, here is what to look for:
Bleeding gums — probably one of the most common and overlooked early warning signs that most people ignore is thinking that the bleeding is being caused by brushing their teeth too hard. The truth is that you would have to brush extremely hard to cause healthy gum tissues to bleed.
Bad breath — something everyone has experienced; however, it can also be a warning sign of periodontal disease. This is especially true for people who hate or refuse to floss their teeth, thereby trapping literally billions of bacteria where they love to collect in the protected areas between the teeth.
Redness, swelling, and/or receding gums — all signs of gum disease often accompanied by sensitivity of the gum tissues around the teeth.
Chronic inflammation — long-standing gum inflammation is a sign that your gum tissues are not healing properly. Periodontal disease exhibits periods with bursts of activity followed by periods where the body tries to recover.
Loose and/or moving teeth — that seem to be drifting into a new position, are visible signs that you are highly likely to have periodontal disease.
Abscess formation — late stage gum disease is characterized by painful, swollen, red pockets of pus, which denotes an acute localized periodontal infection.
If you have any of these signs, you need to make an appointment for a thorough evaluation. Otherwise, you could end up losing your teeth to the second most common disease known to man after tooth decay. To learn more about gum disease, continue reading, "Warning Signs of Periodontal (Gum) Disease." Or, contact us today to schedule an appointment.