My Blog
Posts for tag: missing tooth
By JW Haltom DDS, Inc. Family Dentistry
April 30, 2015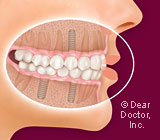 Modern dental implants, sometimes called "your third set of teeth," have revolutionized the practice of dentistry. As permanent replacements for missing teeth, dental implants are highly successful.
A dental implant is composed of two parts. The implant actually replaces the tooth root (like the root of your original tooth). It is usually made of commercially pure titanium, which has the capacity to fuse with the bone of your jaw. This fusion is called osseo-integration, meaning "becoming part of the bone." When this happens, living bone cells actually fuse with the surface layer of the titanium implant, which stabilizes the bone as well. A crown (the part of the tooth that is visible above the gum line) is attached to the implant and can be made of ceramic material that exactly matches the appearance of your natural teeth.
Studies have shown that the success rate of dental implants is greater than 95%. Here's what we need to know to make sure dental implants succeed:
We need to know about your general health. Do you smoke? What medications are you taking? Do you have osteoporosis or a compromised immune (resistance) system?
We will also perform a detailed assessment of the health of your teeth, gums, and jaws to ensure you are a candidate for dental implants.
Do you have sufficient bone to anchor the implants? Is the bone quality adequate? Tooth-supporting bone tends to melt away or resorb when a tooth is lost, so it is important to ensure that it is maintained when a tooth is lost or extracted. We can perform bone grafting to minimize resorption and build up bone tissue if necessary. We will consider the quality and quantity of your bone as part of your assessment.
After the implants have been placed, good dental habits are important. As with your natural teeth, carefully cleaning your new implant crowns and their surrounding gums every day is a necessity.
Continue to visit us on a regular basis. Regular checkups and maintenance can avoid breakdown of the surrounding bone and gum tissues.
If you grind your teeth, we can provide you with a night guard to help to protect your implants from wear and undue stress, which can affect the integration with the bone.
Implants are an excellent choice to replace missing teeth. Contact us today to schedule an appointment or to discuss your questions about dental implants. You can also learn more by reading the Dear Doctor magazine articles "Dental Implant Success Rate" and "Dental Implants: Your Third Set of Teeth."
By JW Haltom DDS, Inc. Family Dentistry
February 10, 2013
Lost teeth can cause a host of problems, including a loss of your jaw bone and a collapsing appearance of your face, along with difficulty chewing and speaking.
Clearly, it is important to replace missing teeth as soon as possible. Options for replacement include the more traditional methods and the newest technique — dental implants. We believe that implants are your best choice for the following reasons.
Implants prevent bone loss.

Dental implants are substitute tooth roots. Like the roots of your original teeth, they stabilize the bone into which they extend — but in a different way.

The part of the bone that encases the teeth is called alveolar bone, from the word root meaning "sac." This bone has a special relationship with the teeth it surrounds. It develops as they first erupt into the mouth. If they are lost, the alveolar bone goes, too. It resorbs, or melts away, giving an impression that the bone, gums, and sometimes the lips are collapsing.

Implants are made of titanium, which has the ability to join biochemically to bone. It takes the place of the original tooth root and prevents resorption.

Implants support adjacent teeth.

Your teeth work in harmony, an all for one, one for all relationship with each other. If one is missing, the remaining teeth will slowly move and shift causing them to receive forces that may not be well received. Losing any tooth increases the pressure on the remaining teeth. Losing a back (posterior) tooth can put pressure on the front teeth and they can be forced out of position. All these movements can change a person's appearance as well as in their ability to speak, bite and chew.

They are easier to clean than "traditional" options.

Fixed bridges are non-removable tooth replacements that attach to adjacent natural teeth. These teeth that are adjacent to the missing tooth have to be cut into small peg shapes on which the bridge is attached. The removal of their enamel may make them more prone to tooth decay and gum disease.

Older replacement methods include removable options such as plastic "flippers" and partial dentures. These replacements rest on the teeth and gums, making the teeth they attach to receive greater pressure causing more mobility. In addition, they exert pressure on the gums, causing additional bone loss and increasing the potential for bone loss on the neighboring teeth.

Full dentures, in cases where all teeth are missing, are kept in place by pressing on the gum tissues. This causes even more pressure on the bone, leading to bone loss and changing facial structures.

They are longer lasting.

Studies have shown that removable partial dentures are replaced about every five years; bridges are only 67% successful at 15 years; and implants are over 95% successful for 20 or more years.

They are cost effective in the long term.

Because implants last longer than other alternative tooth replacements, they may seem more expensive at first; but they will be cost effective over the long term.
Contact us today to schedule an appointment to discuss your questions about dental implants. You can also learn more by reading the Dear Doctor magazine article "Dental Implants. Evaluating Your Options."
By JW Haltom DDS, Inc. Family Dentistry
March 03, 2012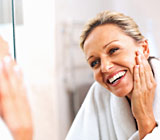 Dental implants are replacements for missing teeth. They are very stable and can be made to look as good as or better than the teeth they replace. How do we do it? Here are seven frequently asked questions.
What are the parts of a dental implant?
The implant consists of a root, usually made of a titanium alloy, which extends below the gum tissue into the bone; and a crown, which emerges from the gum and resembles the crown of the original tooth.
Why is a dental implant so stable?
Titanium has a property of fusing with the bone of the jaw, so that it actually becomes part of the bony structure. The new implant's stability depends on having the needed volume of bone and gum tissue in the right position to anchor the implant.
How can you make sure I have enough bone?
When a tooth is lost, the bone in which it was anchored will resorb or melt away if care is not taken. It is important to minimize trauma during tooth removal to preserve bone tissue. If tissue has been lost it can be built up by bone grafting techniques.
What factors make a crown on an implant look real?
How real the crown looks depends on its shape, particularly as it emerges through the gum tissues, its color and its position relative to the teeth around it.
What is the emergence profile?
This term refers to the way the crown emerges through the gum tissue. It involves both the shape of the implant and how far it is placed into the gum and bone tissues.
How do you match the color of the crown?
We analyze your tooth color using shade guides and/or photography to provide the dental lab with as much information as possible to create the best color match. This is part of the artistry of reconstructive dentistry.
How will my gums look with my dental implant in place?
When people use the word "gums" they are often referring to the small pink triangles of tissue that fill in the spaces between teeth, called "papillae." An implant must be placed at the correct distance from adjacent teeth and at the correct depth below the gum tissue for natural looking papillae to form.
You can see that success in matching of color, shape, and location of an implant is not simple and depends on the skill, artistry, and experience of your dental team.
Contact us today to schedule an appointment to discuss your questions about dental implants. You can also learn more by reading the Dear Doctor magazine article "Matching Teeth & Dental Implants."