My Blog
Posts for tag: missing teeth
By JW Haltom DDS, Inc. Family Dentistry
October 02, 2015
Imagine not having your upper teeth for talking and eating, not to mention your appearance, and you'll have some idea of what Beauty the bald eagle experienced after losing the top of her beak to a hunter's bullet in northern Idaho. She couldn't groom or feed herself and could barely drink water, relying instead on the conservation group that had taken her under their wing for assistance. But the magnificent raptor was eventually made whole and able once again to eat, drink and preen unaided. It took a visionary mechanical engineer and a very skillful dentist who designed and attached the first-of-its-kind bald eagle "dental" prosthetic — dubbed the "bionic beak."
Prosthetic Teeth for Humans
Fortunately, the field of human prosthetic dentistry (or prosthodontics) is much more advanced than it is for our avian friends. We have several options for replacing missing teeth (as well as parts of missing teeth) that restore aesthetic appearance and functionality while potentially preventing other problems such as the drifting out of alignment or loss of remaining teeth.
Bridges. As the name suggests, these custom-made devices span the area that is missing a tooth/teeth. Fixed (not removable) bridges are made up of an artificial tooth/teeth fused between two crowns that fit over your existing teeth or dental implants (see below) on either side of the gap. There are removable bridges, but they are considered temporary fixes.
Dentures. These are custom-made removable replacements for missing teeth. Partial dentures offer a removable alternative to fixed bridges and are used when some teeth are missing in an upper or lower arch (jaw). Full dentures are used when all teeth are missing in an arch. Replacement teeth are embedded in an acrylic base that fits over your gums and mimics their color.
Dental Implants. These are the closest thing to having your own tooth/teeth back. An implant is a small titanium post that is placed in the jawbone beneath the gum to serve the same purpose as a tooth root. Once the bone joins to the implant (a process called osseo-integration), a lifelike crown is attached to it.
We would be glad to discuss which option would be right for you.
If you have questions about tooth replacement, please contact us or schedule an appointment for a consultation. You can also learn more by reading the Dear Doctor magazine articles "Dental Implant Surgery," and "Crowns & Bridgework." Beauty the eagle's story of rehabilitation can be found here: http://blog.theanimalrescuesite.com.
By JW Haltom DDS, Inc. Family Dentistry
July 25, 2012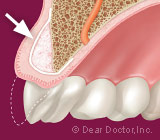 Dentists often recommend bone grafting to ensure the success of dental implants. And it is likewise common for people to squirm a bit at the thought. Bone graft? That sounds serious. And maybe a bit, well, unappealing. These feelings are completely understandable. After all, this may be something you've never had to consider before. But there's no reason to worry. Here's why:
Bone grafting is not new or experimental. It is actually a very routine part of the implant process, as well as other types of oral and periodontal surgery. And it is very successful when performed by an experienced doctor.
Bone grafting materials are processed for safety. The grafts used — whether synthetic or from a natural source, such as cow or human bone — have been specially treated for medical use.
Only a small amount of this bone-grafting material is needed. Once placed in the site of the missing tooth, it serves as a helpful scaffold your body uses to build more of its own bone in that spot.
Your implant will be more ideally positioned and may work better. It needs a good, strong foundation with which to fuse. But when teeth are lost, this supporting bone is often lost, too. This loss is often unpredictable and bone grafting limits the change that occurs. In fact that's one of the main benefits of replacing missing teeth with implants: they help prevent bone loss just as a natural tooth does.
Your implant will look so much better! Think about it: Your original tooth was supported to a certain height by the underlying bone. If that bone is now gone, the replacement tooth is going to be much longer because of the missing bone height. It may not look quite right without that additional support.
So if you want the best-looking and best-functioning implant possible, have no fear of bone grafting. And please contact us to discuss any of your concerns, or schedule an appointment for an implant consultation.
You can read more about this topic in the Dear Doctor magazine article "Can Dentists Rebuild Bone?"