My Blog
Posts for tag: denture
By JW Haltom DDS, Inc. Family Dentistry
March 12, 2014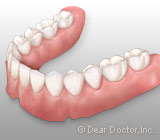 Losing all of your teeth can be both physically and emotionally traumatic. Patients in this condition may need a period of transition from this loss to their permanent restoration. That's the purpose of "immediate" dentures.
An immediate denture is a tooth appliance available for placement immediately after the final extraction so the patient's ability to eat and speak isn't unduly hampered (it also helps preserve their facial appearance). An immediate denture is a temporary measure until a more permanent replacement is achieved; hence, they're not intended for long-term use.
Over time an immediate denture's fit will deteriorate. This is because as the gums heal after extraction, and without the natural teeth present, the underlying bone and gum tissues will shrink significantly. The denture fit becomes looser, which leads to movement of the denture within the mouth. This can cause a good deal of discomfort emotionally and physically, and make it more difficult to eat and speak. It's possible, however, to reline the immediate denture to fit the gum shrinkage and gain more service from it.
At some point, though, it's necessary to transition from the immediate denture to the permanent restoration. If the permanent solution is a removable denture, we will need to wait until the gums have completely healed. At that time we will make a new and accurate impression of your mouth that reflects any changes since extraction. Even with this high level of accuracy, though, the final fit will depend on the amount of remaining bone and gum tissue needed to support the denture.
There are other options besides a removable denture. We can install a pair of implants in conjunction with a removable denture that can stabilize and retain it in the mouth; implants can also support a fixed bridge. You should weigh all the advantages and disadvantages to these options (including cost), to determine which one is the best solution for you.
In the meantime, the immediate denture will enable you to function in a normal manner, as well as aid with your appearance. Remember, though, it's only meant for a short period of time — at some point you will need to transition from "immediate" to a more permanent and satisfying replacement.
If you would like more information on dentures, please contact us or schedule an appointment for a consultation. You can also learn more about this topic by reading the Dear Doctor magazine article "Immediate Dentures."
By JW Haltom DDS, Inc. Family Dentistry
November 27, 2012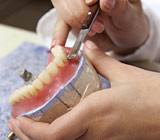 Even with modern knowledge about oral health and how to prevent tooth decay and gum disease, more than 25 percent of Americans have lost all their teeth by the time they are 65. Perhaps they did not have access to dental education, quality care or treatment. Whatever the reasons, those who suffer from "edentulism" — the complete loss of all permanent teeth — also suffer from poor self-image, impaired nutrition, and reduced quality of life.
Removable full dentures are often the solution of choice for those suffering from edentulism. Dentures can be made to look good and feel great; but successful denture-wearing demands the collaboration of a skilled dentist and a willing patient.
A set of well-fitting full removable dentures starts with detailed planning. We need to work out where each tooth will be placed and how the upper and lower teeth will meet together. To do this, we make use of photos taken before the teeth were lost, as well as using the facial features as a guide. You as the patient have to decide whether you want your dentures to look much like your natural teeth did, including any gaps and uneven areas, or whether you want to make your new teeth more regular and uniform than the originals.
In addition to the size, spacing and locations of the teeth, decisions must be made regarding the colors and textures of the part of the denture that fits over and looks like gum tissue. Photos can help with this aspect as well. Ridges can be added to the section of the denture behind the upper front teeth to aid in natural speaking and chewing.
The upper and lower dentures must be designed so that in the process of biting they stabilize each other. This is called "balancing the bite." This is necessary for normal function and speech.
All this careful planning and design are only the beginning. The dentures will be created in a wax form, tested and modified. They are then completed in a dental laboratory, where the new teeth and gums are created out of a special plastic called methyl methacrylate. With careful planning, skill and artistry they are made to look like natural teeth and gums.
At this point the role of the denture wearer becomes vitally important. He or she must relearn how to bite, chew, and speak while wearing the dentures. As the dentures press down on bone and gum tissues, over time some bone will be lost. This will require coming in for frequent checkups and modifications to make sure the dentures continue to fit well and comfortably.
Contact us today to schedule an appointment to discuss your questions about dentures. You can also learn more by reading the Dear Doctor magazine article "Removable Full Dentures."