My Blog
Posts for tag: bleeding gums
By JW Haltom DDS, Inc. Family Dentistry
December 23, 2013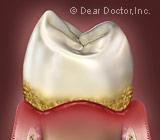 Ninety percent of people have noticed bleeding from their gums when they brush or floss their teeth at some time or other. You may wonder if this is a result of brushing too hard — but that's not usually the case.
If your gums don't hurt — even if they bleed easily — you may think the bleeding is normal, nothing to worry about, or you're brushing too hard.
Bleeding from your gums is not normal!
It is an early warning sign of gum disease. In fact ten percent of those who start with bleeding gums go on to develop serious periodontal disease affecting the support for the teeth leading to tooth loss.
Then why do my gums bleed?
The way you brush your teeth is indeed a factor! Bacteria that normally reside in the mouth (in fact you need them to stay healthy) collect along the gum line in a biofilm. When the biofilm is not removed effectively on a daily basis, over time the gums become inflamed and bleed when touched. Other signs of inflamed gums — gingivitis — are redness and swelling, and even recession.
SO — the problem is not that you are brushing too hard, but that you are not brushing and/or flossing effectively. Both are important.
Three ways to stop bleeding gums before they lead to serious problems
It all starts with brushing your teeth correctly at the gum line. Use a soft multi-tufted toothbrush. Hold it in the gum line and wiggle it gently until the tooth surfaces feel clean to your tongue — just like when you've had a professional cleaning. It doesn't take force, be gentle.
It's just as important to remove biofilm from between the teeth where the toothbrush won't reach. If you are having difficulty flossing, we've got some easy demonstrations and instructional tips.
Remember, as we say, "It's not the brush, it's the hand that holds it."
Contact us today to schedule an appointment or to discuss your questions about bleeding gums. Bring your toothbrush and floss with you to our office and ask us to demonstrate proper oral hygiene techniques. You can also learn more by reading the Dear Doctor magazine article "Bleeding Gums: A very important warning sign of gum disease."
By JW Haltom DDS, Inc. Family Dentistry
November 18, 2013
If your gums appear reddish, puffy and bleed easily — especially at the margins where they meet your teeth — instead of their normal pink, you have gingivitis ("gingiva" – gums; "itis" – inflammation). Gingivitis is one of the first signs of periodontal disease ("peri" – around; "odont" – tooth) that affects the tissues that attach to the teeth, the gums, periodontal ligament and bone. Other common symptoms of periodontal disease include bad breath and taste.
If periodontal (gum) disease is allowed to progress, one possible consequence is gum recession exposing the root surfaces of the teeth. This can cause sensitivity to temperature and touch. Another sign is that the gum tissues may start to separate from your teeth, causing pocket formation; this is detectable by your dentist or hygienist. As pocket formation progresses the bone supporting the teeth is destroyed leading to loose teeth and/or gum abscesses. Unchecked or untreated it leads to tooth loss.
Inflammation, a primary response to infection is actually your immune (resistance) system's way of mounting a defense against dental plaque, the film of bacteria that concentrates between your teeth and gums every day. If the bacteria are not removed, the inflammation and infection become chronic, which literally means, "frustrated healing." Smoking is a risk factor for periodontal disease. Smokers collect plaque more quickly and have drier mouths, therefore, cutting down or quitting smoking can reduce the severity of gum disease. Stress has also been shown to affect the immune (resistance) system, so stress reduction practices can help here as well as in other parts of your life. Gum disease can also affect your general health especially if you have diabetes, cardiovascular or other systemic (general) diseases of an inflammatory nature.
Periodontal disease is easily preventable. The best way to stop the process is to remove each day's buildup of plaque by properly brushing and flossing your teeth. Effective daily dental hygiene has been demonstrated to be effective in stopping gingivitis. It sounds simple, but although most people think they're doing a good job, they may not be. Effective brushing and flossing requires demonstration and training. Come and see us for an evaluation of how well you're doing. Regular checkups and cleanings with our office are necessary to help prevent gingivitis and periodontal disease. In addition if you already have periodontal disease you may need a deep cleaning known as root planing or debridement to remove deposits of calcified plaque called calculus or tartar, along with bacterial toxins that have become ingrained into the root surfaces of your teeth.
Gum disease is often known as a silent disease because it doesn't hurt, so see our office for a periodontal exam today.
Contact us today to schedule an appointment or to discuss your questions about gingivitis and periodontal disease. You can also learn more by reading the Dear Doctor magazine article "Understanding Gum (Periodontal) Disease."
By JW Haltom DDS, Inc. Family Dentistry
October 11, 2012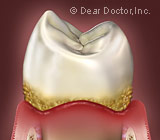 Periodontal (gum) diseases are sometimes called "silent" because those who have them may not experience painful symptoms. But certain signs point to the existence of these common diseases. If you are experiencing any of the symptoms below, it is time to visit our office so these problems can be treated before they lead to serious infection and loss of teeth.
Gums that bleed during the brushing of teeth. Some people think that gums bleed from brushing too hard. In fact, healthy gum tissues will not bleed with normal brushing. The usual cause of bleeding gums is an accumulation of dental plaque in the areas where your teeth meet your gums. Plaque is a film of bacteria, called a biofilm, which accumulates on your teeth. If you are not brushing and flossing effectively, plaque irritates your gum tissues and causes an inflammation and swelling called gingivitis. This causes your gums to bleed easily on contact with a toothbrush or floss.
Gum tissues that appear red and swollen. If plaque is allowed to accumulate for 24 hours or more, the inflammation in your gum tissues becomes chronic. The continuous presence of bacteria makes it impossible for your body's natural defenses to fight the infection. Chronic inflammation leads to a breakdown of the normal attachment between the teeth and the gums, causing the formation of "pockets." Inside these pockets the infection continues to attack the tissues that support your teeth. Eventually this can lead to a breakdown of the bone that surrounds your teeth.
Bad breath. Bad breath is another sign of accumulated plaque. The bacteria in plaque may emit gases that have an unpleasant odor.
Gums that are sensitive to hot or cold. Chronic inflammation can also cause the gums to recede, exposing the roots of the teeth in which nerves may be close to the surface, leading to sensitivity to heat and cold.
Teeth that are getting loose, or a painful area in the gums. If you experience these symptoms, the infection has progressed a long way from the "silent" stage. It is time to seek immediate professional help.
If you answered "yes" to any of the above questions, a professional dental examination is in order. With daily removal of plaque by effective brushing and flossing, along with frequent professional cleanings to remove any plaque that you were unable to catch, you will go a long way to preventing periodontal disease. Also, be aware that smoking tends to mask the effects of gum disease. Generally, if you smoke your gums will not bleed when brushing or flossing, nor will they show signs of swelling.
Contact us today to schedule an appointment to discuss your questions about gum disease. You can also learn more by reading the Dear Doctor magazine articles "Bleeding Gums" and "Warning Signs of Periodontal (Gum) Disease."