Welcome to Our Practice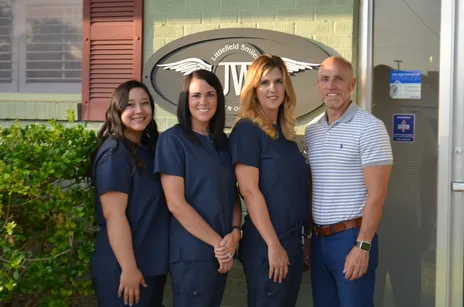 At Dr. Haltom Family Dentistry, our goal is to provide you with high-quality dental care in a relaxed friendly atmosphere. We specialize in creating beautiful smiles, maintaining dental health, orthodontics, Invisalign, dental implants, root canals , and restoring decayed or missing teeth. The veneers, crowns, bridges, partials, and dentures we use are made with the highest quality materials and we stand behind all our work 100%. We provide dental services for all age ranges of patients from small children to senior adults, and we now provide orthodontic services.

Our Littlefield dental office has recently been renovated to provide a warm home like atmosphere and all the treatment rooms have been outfitted with televisions and headphones to block out the dental noise. Oral sedation and nitrous oxide are also available for any anxious patient. We strive to give our patients a great experience every time they visit our office by making sure that all of our patients have time dedicated to them to answer questions, build relationships and explain any and all treatment options available. We also have a bilingual speaker on our staff. Ultimately we want to provide all our patients with service that is beyond their expectations and make available all of our dental services here locally so the citizens of Littlefield and the surrounding communities do not have to drive to a larger city.